Estimated Reading Time: 4 minutes
Bingo has established itself as one of the most popular forms of communal gaming across Australia and the world. A game of chance, there are two main gameplay formats to this activity: U.S. bingo (75-ball bingo) and Commonwealth bingo (played in Australia, New Zealand, the U.K. and other Commonwealth nations: 90-ball bingo, also known as Housie).
The basic premise to the game is simple: mark off numbers on a card as they are randomly drawn and called out by a caller, with the winner the first person to mark off a pre-determined pattern of numbers deemed a winning combination. If you are from a regional area or want to experience online bingo, check out our guide to the best websites or play at any of the recommended bingo sites in the table below.
Best bingo sites for Australians

games
2 bingo rooms + 15 table games and niche titles
The 90-Ball Ticket

Our 90-ball game tickets contains 27 spaces, arranged in three rows by nine columns, as displayed in this image. Each row has five numbers and four blank spaces, and each column can contain up to three numbers. Specific numbers are dedicated to specific columns – some bingo hosts use slightly different confines than others, and it also depends where the game is being played:
The first column contains the numbers one through to nine (or sometimes 10).
The second column features the numbers 10 or 11 through to 19 or 20.
The third column features the numbers 20 or 21 through to 29 or 30, and so on until the final column, which contains the numbers 80 or 81 through to 90.
Tickets are sold in packs of six (this allows each number from 1-90 to appear across all six tickets).
Generally, the pre-determined winnings combinations are as follows:
One line: all five numbers across one horizontal line on the ticket are called and marked.
Two Lines: all five numbers on two separate lines (same ticket) are called and marked.
A full house: all 15 numbers on the ticket are called and marked.
The game continues even after a player has won the first line, as well as completed two lines. It comes to an end when a player has successfully marked off his/her entire playing card.
The 75-Ball Ticket
We won't go in to too much detail here about how bingo is played in America, but if you want to know more about 75-ball bingo, we have a page dedicated to explaining the rules of this format of the game.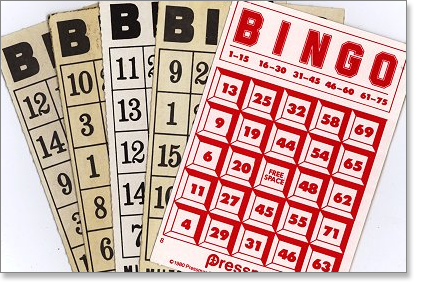 A 75-ball bingo ticket contains 25 squares arranged in a 5×5 grid, and each square contains a number, except the middle space which is generally marked 'free space' and is considered automatically filled.
Like the 90-ball card, each column of the 75-ball card usually has a restricted range of numbers which can show – the first column shows any numbers from one to 15, the second 16-30, and so on (as displayed in the image). A row, column or diagonal are the most common ways of winning, while there are other patterns which are often accepted (like covering all four corners), and these we discuss in further detail on our 75-ball bingo page.
Bingo Venues Around Australia
Bingo events can be played for numerous and diverse purposes, including charity, pure amusement, religious and political purposes. Australia has hundreds of specific locations where such events take place, so it shouldn't be difficult to find a venue near-by. Here are some locations across the country, with a more detailed selection of venues linked in their appropriate sections:
Centres in Melbourne and Around Victoria
Fawkner Bingo Centre (Sydney Road, Fawkner)
Dorset Gardens Entertainment Complex – Star Bingo (Dorset Road, Croydon)
Prahran Bingo Centre (Little Chapel St, Prahran)
Click here for more information about venues in Victoria.
Bingo Halls in Sydney and NSW
Sydney Bingo Lounge (Littleton Street, Riverwood)
Parramatta Leagues Club (O'Connell Street, Parramatta)
Rockdale RSL (Bay St, Rockdale)
Where to Play Housie in Brisbane and Queesnland
Swifts Sports Club (Brisbane Road, Cameron Park)
Southside Bingo (Mount Gravatt Capalaba Road, Upper Mount Gravatt).
Greenbank RSL (Anzac Ave, Hillcrest).
List of clubs to play housie in the Sunshine State.
Bingo Locations in Darwin and the Northern Territory
St Mary's Football Sporting & Social Club (Abala Rd, Marrara)
Howard Springs Tavern (Whitewood Road, Howard Springs)
For more information about bingo in the NT, click here.
Where to Play in Adelaide and Around South Australia
Regency Park Centre (Days Road, Regency Park)
Club Marion (Sturt Road, Marion)
British Working Men's Club (Davis Street, Wingfield)
Click here for a more in-depth guide to bingo locations in South Australia.
Hobart and Tasmania Bingo Halls and Centres
Glenorchy RSL (Main Rd, Glenorchy)
Country Club Tasmania (Country Club Ave, Prospect Vale)
Here are some more clubs in Tasmania to play bingo.
Perth and Western Australia Locations
City of Cockburn RSL (Frederick Road, Hamilton Hill)
Cannington Greyhounds (Albany Highway, Cannington)
Croation Community Hall (Alfred Road, North Fremantle)
Find out more about venues in Western Australia here.
Electronic Bingo Machines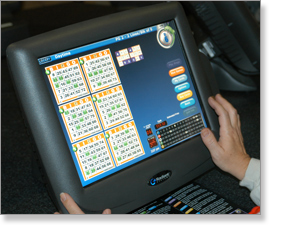 Electronic bingo computers are now also widely available at local clubs. Not to be confused with online bingo, electronic bingo allows players to purchase more than the standard six tickets per game, thus increasing their winning chances. The game is played on a touch-screen terminal (a bit smaller than the size of a laptop screen), and the computer automatically fills out the numbers which are called out, and displays all of the player's current tickets. Winnings can be paid directly in to the player's electronic account. You can also play other casinos games on these machines such as pokies.
Who Can Play and Who Can Apply for a Licence?
Persons under 18 years of age are not permitted to play real money bingo at licensed venues, as this form of entertainment is considered gambling. Anyone over 18 can apply for a bingo licence on behalf of an association through their appropriate state gaming and gambling regulatory body. Find out more information about applying for a bingo license here.
Sign up at Kitty Bingo and receive $30 free and 100 spins on a pokie machine