Estimated Reading Time: 4 minutes
Yes, Aussie bingo players can deposit to their online casino accounts with their credit card -granted they're with the right credit card company. Funding your bingo bank account with your credit card is one of the easiest and quickest ways to get playing, but you have to know how first, along with whether or not your card will be accepted. We have created this guide so you will have money in your account quicker than you can call out BINGO!
Best credit card bingo sites for Australians

games
2 bingo rooms + 15 table games and niche titles
Deposit funds into your casino account using a credit card
Credit cards are like your middle-class friends who you can borrow money from but with the polite additional note that you have to pay them back, plus interest.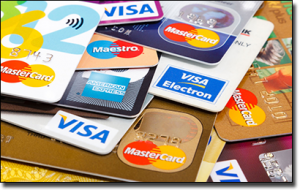 Credit can create a lot of unwanted stress and drama for you if you don't pay it back, so when playing bingo online with a credit card, always think if you can pay that stingy friend back quickly before things get out of hand. If you can, then they are a great way to fund your account, quickly and without having to transfer money from one account to another.
First ensure that the online casino, whether it be specifically for online bingo or for an array of games, accepts your credit card. You may be with a certain bank such as Commonwealth or Westpac, but these aren't the credit card companies. Rather, they are the banks which issue the cards.
Generally the cards fall under the two most common credit cards in the world – Visa and MasterCard. These two companies offer credit cards to Australian players so it is extremely common that you will have one or the other.
Visa credit card online casino
All of our recommended online casinos, as well as the majority available on the Internet, accept Visa credit cards. It is a quick convenient way to make a deposit and thanks to its worldwide reputation, it is incredibly secure.
MasterCard credit card online casino
MasterCard is up there with Visa due to its convenience, reputation, and quick nature, however it has one major drawback. Many Internet casinos only allow withdrawals to MasterCard debit and not MasterCard credit. This means while you can make a deposit via MasterCard credit, you may have to find a different method to withdraw. However, if you do have a Maestro credit card, owned by MasterCard, you may be able to withdraw to that as it is accepted at some online casinos, for example Lucky Pants Bingo.
Visa and MasterCard hidden deposit fees
As the individual financial institutions ultimately decide the rates, fees, etc., it is them who will decide the policy for gambling transactions. Some may actually impose that a fee is incurred when making a deposit. For example, the Commonwealth bank issues both Visa and MasterCard, and state in their terms and conditions that all gambling transactions amount to a cash equivalent transaction and therefore will incur a fee.
You can find out what the fee is by taking a look at the cash advance section in the terms and conditions of your credit card. There also could be a limit as to how many cash advance transactions you can make so be sure to look this up too on your financial institutions website or you may find you have exceeded the limit.
Other credit cards aren't so lucky in terms of acceptance by Internet gaming establishments. American Express which also now owns Diner's Club is not so readily accepted online so you won't be able to make a deposit via these credit cards. However these cards aren't as popular in Australia so it shouldn't be too big of an issue.
For those with Visa or MasterCard, head over to the banking page (after you have signed up with your preferred online casino), input the card information, confirm deposit amount and usually you will see your money transferred instantaneously. If it is denied, it may be due to your individual bank not allowing gambling transactions, as opposed to Visa or MasterCard.
For example, Citibank, Suncorp, Bendigo Bank, and Bank of Queensland all don't accept gambling transactions even if you do have a Visa or MasterCard -but there are other payment methods available.
Where to play bingo for real money online
To deposit funds via a credit card, it is essential to have somewhere to play first. Whether you are after an Internet casino which is specifically catered to bingo, or whether you are after an online gaming establishment which is more focused on other casino games but offers bingo too, we have found some reputable and trustworthy websites to get started.
Lucky Pants Bingo
With an abundance of bingo titles and even a no deposit free $5 when players first sign up, Lucky Pants Bingo is an bingo-friendly choice. They accept Maestro, Visa Delta, Visa Credit, and MasterCard, along with other payment methods when making a deposit.
Aussie Dollar Bingo
– Featuring 75 and 90 ball bingo, players can get $20 free, no deposit required, when playing here. Accepting both MasterCard and Visa, Aussie Dollar Bingo also has a 1000% deposit bonus when you first sign up.
True Blue Bingo
Also offering a $5 free no deposit necessary when you sign up is True Blue Bingo. Featuring just one 75-ball bingo room, its best suit for the 90-ball bingo player. The welcome bonus includes up to 200% matched on the first deposit which can be made via your Visa or MasterCard credit card.