Deprecated
: Implicit conversion from float 3.1666666666666665 to int loses precision in
/home/onlinebingositesguide/public_html/wp-content/plugins/wp-word-count-pro/includes/class-wpwc-functions.php
on line
414
Estimated Reading Time: 3 minutes
Online bingo can be incredibly cheap, playing cards can cost as little as 1 cent each, but you still need some money in your bingo playing account in order to buy bingo playing cards. POLi is a great way to fund your housie play as it's easy to use, convenient and above all safe.
If you're not familiar POLi and the financial services that they offer, have a read on who they are, what they do, and how you can utilise them for your online housie play.
Best POLi bingo sites for Australians

games
2 bingo rooms + 15 table games and niche titles
What is POLi?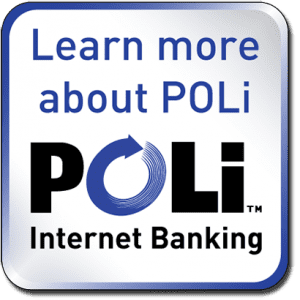 POLi is one of Australia's most prominent online real time debit payment systems. Basically, POLi is a credit card replacement for when you're making a transaction online. POLi utilises the highest security measures so you have added safety when you're funding your housie fun online.
POLi safeguards transactions you make online, and hides your personal financial details from who you're buying from and any other third parties by using HTTPS transport level security.
Advantages of using POLi at online bingo sites
There are a whole number of different reasons many players choose to use POLi at their preferred housie site. Here are some of the advantages of using POLi for online payments:
It's convenient. POLi is very widely accepted and is welcomed at many Australian bingo sites. It's also convenient because you don't have to register with POLi to use their services, so you don't need to remember additional passwords and usernames.
It's a free service. POLi doesn't charge you any additional fees for making payments with them.
You don't need a credit card to use POLi, just a bank account. This comes in handy if you don't have a credit card, or if you simply don't want to use your credit card to make online transactions.
POLi offers industry-leading protection in the form of 128-bit SSL (Secure Socket Layer) digital encryption technology to safeguard financial transactions from exploitation.
POLi doesn't save any of your sensitive information, and doesn't share or reveal any of your details which makes it one of the safest payment methods.
Can POLi be used to fund online bingo?
Yes, you certainly can use POLi to fund your online housie games. POLi is one of the most widely used payment methods among Australian players. POLi deals in AUD, which is a bonus as you don't have to worry about conversion rates or the like.
If you are playing at a housie site that is directed at an Australian audience it is highly likely POLi will be offered as a payment option for deposits and withdrawals.
POLi is the best alternative to PayPal
PayPal is very similar to POLi, they are another Australia debit payment provider for online transactions. They have a very similar service and have similar advantages however you cannot use PayPal at any online casinos.
PayPal doesn't allow you to use their services at these sites, so it is not possible to use PayPal to fund your online housie games. But, POLi achieves the same thing as PayPal and is a great alternative.
How to transfer money using POLi for housie
If you haven't made a payment with POLi before, don't be put off by having to try something new. POLi, along with the best online bingo sites, make the whole process very easy and hassle-free.
First of all, you need to be registered with your preferred housie site, so if you haven't already done so, sign up. It shouldn't take you more than a couple of minutes to join a bingo site.
Once you have logged into your account head to the 'Banking' or 'Cashier' section of your bingo site. From here you will be presented with their list of payment options, select POLi to pay with POLi.
From here you'll need to log into your bank and select your preferred account, and then confirm your payment.
Many online bingo sites process POLi deposits instantly so you'll be able to begin purchasing playing cards straightaway.
If you are making a deposit from a mobile device rather than a desktop computer, the process is much the same. POLi is great because it's flexible and allows you to use their service on a mobile, tablet or computer device.
POLi security for deposits
POLi maintains the highest security standards for its customers. They utilise 2048-bit secure socket layer digital encryption technology, which is even more advanced than the technology some major banks use. They use a proxy server between you and the banking site that you're using and have multiple levels of Firewall security for the most optimal protection. None of your sensitive information is stored so it can't be shared with anyone else.