Deprecated
: Implicit conversion from float 2.1666666666666665 to int loses precision in
/home/onlinebingositesguide/public_html/wp-content/plugins/wp-word-count-pro/includes/class-wpwc-functions.php
on line
414
Estimated Reading Time: 2 minutes
The following is a guide of the most popular venues (halls, clubs, centres, etc.) across the Victorian state and in the Melbourne surrounds, to play community-based bingo. We detail the address of such locations, the days these places host games, when they commence, and some of the specials they offer. Note that times are subject to change and you should always contact your venue to confirm dates and times.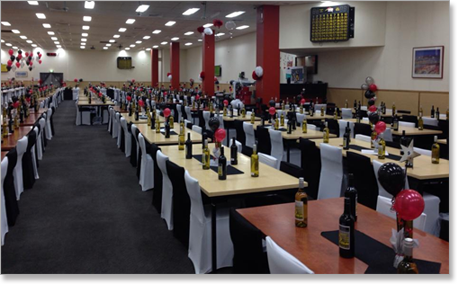 Venue: The Fawkner Bingo Centre
Address: 1402 Sydney Rd, Fawkner, Victoria, 3060.
Open: Seven days and seven nights
Sessions: Weekday – Day sessions from 11am, night sessions from 7pm.
Saturday – Day sessions from 12pm, night sessions from 7pm.
Sunday – Night sessions only.
Venue: Dorset Gardens Entertainment Complex
Address: 335 Dorset Rd, Croydon, Victoria, 3136.
Open: 6 days and six nights.
Sessions: Morning sittings begin at 11am. Night sittings commence at 7pm.
Centre: Northern Bingo Centre
Address: 71 Sydney Rd, Brunswick, Victoria, 3056.
When: Daytime – Tuesday to Sunday. Night-time – Wednesday to Saturday.
Location: Prahran Bingo Centre
Address: 5A Little Chapel St, Prahran, Victoria, 3181.
Sessions: Wednesday – Night games at 7pm, 8pm, 8:45pm & 9pm.
Thursday – Day games at 11:30am, 12:15pm, 1pm & 1:30pm.
Friday – Night games at 7pm, 7:45pm, 8:30pm & 9:15pm.
Where: The Fountain Gate Bingo Centre
Address: 5B Brechin Drive, Fountain Gate, Victoria, 3805.
Open: Seven days and seven nights.
Sessions: Wednesday and Friday night, and Thursday day.
Specials: Major jackpots on offer.
Hall: Shepparton Bingo Centre
Address: 33A Vaughan St, Shepparton, Victoria, 3630.
Open: Monday to Saturday.
Start times: 12pm daily, Monday to Thursday night games at 7:30pm.
Friday & Saturday night games at 7pm.
Specials: Free trivia on Thursdays – 10:45am – 11:45am.
Location: Ballarat Bingo Centre
Address: North Ballarat Sports Club, Creswick Rd, Ballarat, Victoria, 3350.
Opening & start times: Monday, Wednesday, Thursday, Friday and Saturday.
Three sessions per day, times vary each day.
Check website for details: www.BallaratBingoCentre.com.au
Place: Werribee Plaza Bingo Centre
Address: Derrimut Rd & Heaths Rd, Hoppers Crossing, Victoria, 3029.
Sittings: Daily from Monday to Saturday, starting at 11:30am.
Nightly from Monday to Sunday, starting at 7pm.
Place: Mildura RSL Sub-Branch
Address: 130 Madden Ave, Mildura, Victoria, 3500.
Open: Seven days a week.
Times: Monday and Wednesday @ 7.45pm.
Saturday @ 1.30pm and 7.45pm. Sunday @ 2pm.
Location: Carrum Gardens Bingo Centre
Address: 554-556 Frankston-Dandenong Rd, Carrum Downs, Victoria, 3201
Open: Seven days and nights.
Start times: Monday to Friday day from 11am. Monday to Thursday nights from 7:30pm.
Friday & Sunday nights – 7pm. Saturday day @ 12pm and night @ 6:45pm. Sunday at 2pm.
Where: The Palms: Bingo and Club
Address: 1 Rosamond Road, Maidstone, Victoria, 3012
Opening days: Seven days a week.
Bingo sessions: Monday daytime from 12 noon, Tuesday-Sunday daytime from 11.15am (multiple session throughout the day). Monday-Sunday night games start from 7pm (two sessions each night).
Centre: St. Albans Bingo Centre
Address: 2 McKechnie St, St Albans, Victoria, 3021.
Bingo times: Monday to Friday day sessions from 11am, and night sessions from 7pm.
Saturday morning – 12pm. Saturday evening – 6:30pm. Sunday @ 1:30pm.
Specials: Free games on Monday mornings and Tuesday evenings for cash prizes.
Each of these venues near Melbourne and around the Victorian state are all licensed to hold regular bingo events.