Estimated Reading Time: 3 minutes
While bingo at clubs and local halls used to be confined to playing with worn out paper cards with marks and scratches all over them, the development of technology has given players the ability to use electronic bingo machines, which can track more than 100 cards at a time. But electronic computers aren't for everyone. This article will help to explain all the details behind electronic bingo, how they operate, and whether they are right for you.
Best bingo sites for Australians

games
2 bingo rooms + 15 table games and niche titles
What is an Electronic Bingo Machine?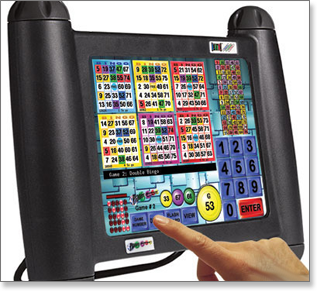 Electronic bingo machines (also known as electronic computers) are small devices with touch-screen terminals (slightly smaller in size to that of a traditional laptop), where players can purchase and play multiple cards at the same time. All the player has to do is simply punch in the numbers when they are called out, and the computer automatically tracks and scans each card to see if the player has that number. These machines can be portable and can also have a fixed (or removable) base to a table. For many players, this format of bingo makes the game easier, and gives them more time to relax. It is still up to the individual to call bingo when and if they have a complete card.
How Much Do Electronic Tickets Cost?
Purchasing large quantities of tickets on the machine obviously forces the player to outlay more money, but those who wish to use these portable devices will often be able to buy exclusive bingo packages, making the cost per ticket more economical than purchasing paper card tickets. For example, a package of 30 tickets might cost $45, as opposed to buying 30 card tickets worth $2 each.
How to Use A Bingo Computer
Players will usually use some sort of membership card to swipe on the machine in order to access their playing account, and can then buy and play multiple cards. Some machines allow the user to purchase up to 200 cards, however many venue hosts will place a limit on the numbers of tickets allowed to be purchased electronically – this is largely due to the fact organisers wish to retain players who buy traditional paper cards, and if those using hundreds of cards on machines are winning more often, this could have a negative impact on traditional players. If a player wins, they have their screen checked, and all being well, their winnings can be directly deposited in to their electronic account (on to their cards).
Does the Computer Offer Better Odds?
Mathematically, the more cards a player buys, the better their chances are of winning, so those playing with 90 cards on their machine do hold a far superior edge over a player with 12 paper cards. However, when multiple people purchase multiple playing cards via automated computers, the advantage becomes less and less. Additionally, the more cards a player buys, the more their total outlay is: so if someone was to purchase 100 cards on multiple occasions but never won, that player would be out of pocket significantly more than someone who bought a group of six tickets on five occasions, but never won.
Playing Other Cash Games on Electric Bingo Devices
Many of these electric machines offer other real money games such as Mechanised Cash Bingo, random number generated pokies/slot games, and some other casino-related titles. Players can use their bingo winnings to spend on these games, or top up their accounts with credit and debit cards or cash transactions.
Video Bingo Machines
Video bingo machines are different from electronic computers – these machines are equatable to stand alone pokies and video poker gaming machines and are operated by random number generators. Players can use these machines to play games with progressive jackpots, and can claim any winnings by tapping the cash out button. Such devices usually have a payback percentage of between 80 and 90 per cent.