Estimated Reading Time: 1 minutes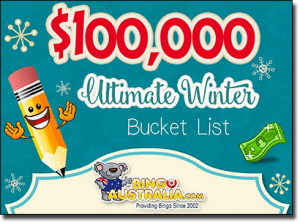 At Bingo Australia and Aussie Dollar Bingo, players are eligible to join in a new three-part game which pays the top three place-getters $250, $150 and $100, for a total of $500 in guaranteed cash.
Join the Bingo Main Room at 9pm every night until the end of the promotional period (June 14) to take place in the game.
On top of this, there is a $2,500 coverall game, plus guaranteed $100-$150 prizes for certain patterns each night at 9pm from the Winter Bucket List promotion.
The Winter Bucket List promo includes: the chance to win over $5,000 in cash each and every week, a jackpot of $2,500 each and every day, a weekly grand prize of $500, as well as over $3,000 in additional cash and prizes throughout the June month.
Check out the nightly $750 coverall, which takes place at 10pm, boasts a minimum jackpot of $100 in cash, and is programmed to start at 50 calls.
Players can pre-buy tickets to all the above bingo games.
Running low on cash? Bingo Australian and Aussie Dollar Bingo are also offering free bingo games which boast small cash prizes and bingo bonus cash, for a limited time only. Rooms open between 8am and 2am, but are closed if any special promo room happens to be running at the same time.
Let's not forget Bingo Australia and Aussie Dollar Bingo's $2,500 Team Bingo tournaments, Knock Knock Lotto, guaranteed winnable progressive jackpot games (with $0.10, $0.50 and $1.00 cards holding minimums of $2,000, $3,000 and $5,000 cash prizes), constantly running pokies promos and the Opals Loyalty Bonus Program.