Deprecated
: Implicit conversion from float 3.6333333333333333 to int loses precision in
/home/onlinebingositesguide/public_html/wp-content/plugins/wp-word-count-pro/includes/class-wpwc-functions.php
on line
414
Estimated Reading Time: 4 minutes
As such a highly social game, bingo was never going to gain popularity online without enabling chat features. Luckily leading bingo venues all understood this, and created some of the most fun chat rooms available on the Internet to go along with their awesome bingo rooms.
Australian bingo sites with the best chat features

games
2 bingo rooms + 15 table games and niche titles
Chat rooms are now one of the main draw cards for bingo players as they provide a major part of the online bingo experience, with reputable sites offering chat rooms hosted by friendly, charismatic hosts who are always available to spice things up a bit and answer any questions players may have.
The use of chat hosts means the conversations are always flowing, rooms are mediated to filter out any bad seeds and there are even prizes to be won within the chat rooms themselves.
Bingo sites accepting AUD currency
Try these leading online bingo venues for a fabulous range of bingo games catering to Australian players. Each of these sites offer some of the best chat features you'll find on the Web, with the most charming chat hosts around:
Mainstage Bingo
Lucky Pants Bingo
True Blue Bingo
Bingo Australia
How to chat with players in online Bingo?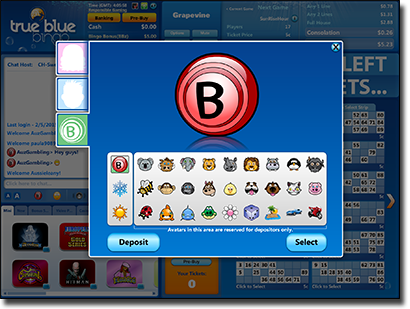 Chatting in online bingo is simple, so if you're not familiar with Internet chat rooms don't worry, it's easy to get the hang of.
To chat with other players you'll need to register for an account at the housie site of your choice, which will only take a few minutes at most to process.
Once you've signed in, head to the bingo lobby and select which room you wish to play in. The number of players currently within will be listed so if you want to be part of a smaller or larger group the choice is yours. Newbie rooms are always a good place to start if it's your first time at the bingo site. You can also choose your avatar, which represents you in chat rooms.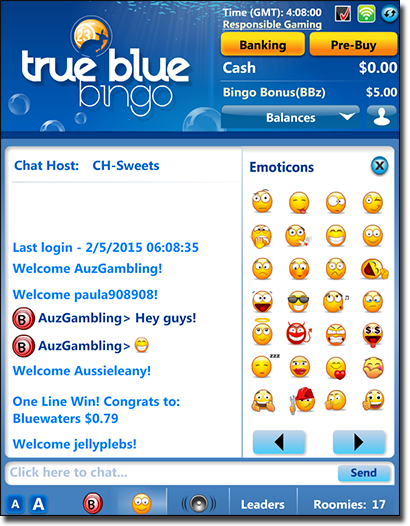 Once you've entered the room the chat window will be displayed on the side of your bingo cards, so you can simply join the conversation by typing your text into the chat box. There's no pressure to chat at all, so if you're not feeling particularly social you can simply play and stay out of the conversation.
The name of the chat host will be listed at the top of the chat box and their text will usually be highlighted in a different colour to stand out from general players. From time to time the host will announce an in-chat game is about to commence, and will throw out all kinds of ways in order for players to win free games or bonus credits.
Winnings taken by current players are announced in the chat room as they happen, so you can congratulate fellow players or revel in the glory of your own win.
Rules in bingo chat rooms
Another thing that makes bingo chat rooms so excellent is that they are closely monitored to ensure players are following chat rules and being respectful to all other players. You won't find derogatory language and sexual innuendo here, these are safe spaces where players can feel free to make friends from all over the world while enjoying the fun of playing online bingo for real money.
The rules of each chat room differ from venue to venue, but will generally include things like no giving out personal information, no complaining about your losses, ensure respectful language at all times and no promotion of any other website or business. These rules help maintain bingo chat rooms as safe, positive social spaces where everyone is treated equally.
Why is bingo such a good social game?
At its core bingo has always been a social game above all else. Sure, the anticipation of winning and scoring a prize is part of the package, but without the social aspect bingo wouldn't be the game that it is.
From community halls to retirement villages, bingo has always brought big groups of people together. It's such a good social game because unlike most other casino games, the other players are genuinely your competitors. The rush of trying to beat the person next to you at winning a bingo is half the fun.
A majority of other casino games are played either directly against the dealer, the house or the machine itself and maintain their rush from luck and strategy. Bingo gets its rush from the hope of not only winning, but being able to turn to the person next to you, or to the online chat group and shout a mighty proud and triumphant 'BINGO!'
It's also such a great social game because everyone can play; it stretches out to all age groups and skill levels. As long as you can read and understand numbers, you're in with just as good a chance as everyone else. Unlike a poker game, it doesn't require intense silence and players both online and in land based venues can freely chat while waiting for the next number to be announced. Online bingo players have the added benefit of seeing the numbers listed on screen so they won't miss a beat, allowing them to chat their hearts out.
Essentially, bingo is a good light hearted game that needn't be taken too seriously and should be enjoyed for the fun, social game that it is.