Estimated Reading Time: 5 minutes
So you can talk the bingo talk but now you want to walk the bingo walk? If you have studied up on your bingo lingo but aren't ready to put the big bucks down, check out these bingo websites which offer great minimums. Online bingo sites are a lot more flexible, convenient and even rewarding than the traditional form.
Low-stakes bingo sites for Australians

games
2 bingo rooms + 15 table games and niche titles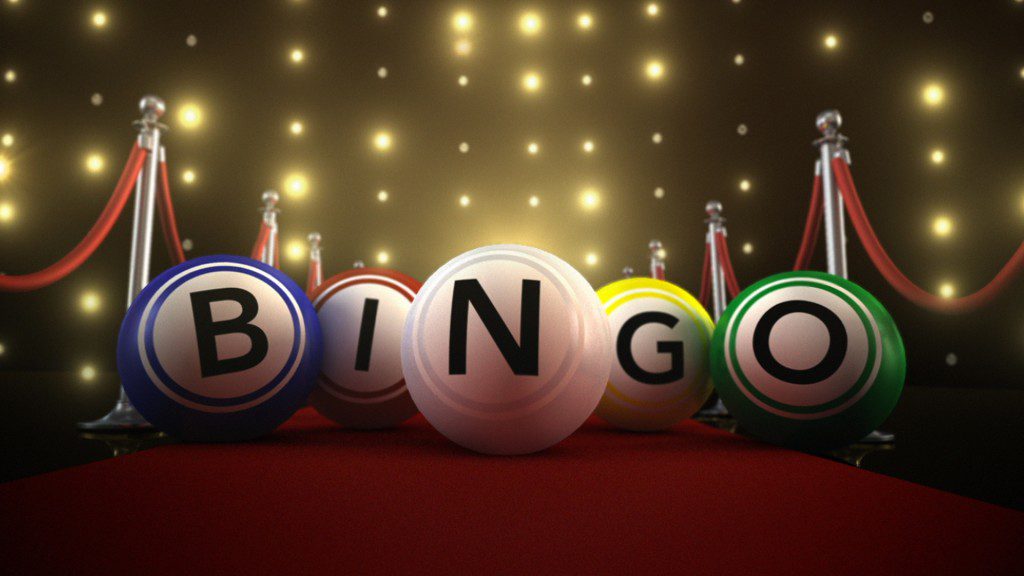 Online you get your cards and a virtual caller calls out the numbers and you can automatically mark off the numbers, as well as calling out Bingo for you in case you win and might not have noticed – because it happens to the best of us.
Players also get the flexibility in terms of payment options and of the course the best part is that players get the option of playing games with different prizes, jackpots and bonus money.
We've picked three sites from our recommended online bingo sites to check out their minimum so you can get confident in the world of online bingo.
True Blue Bingo
If you want a true Australian experience when playing online bingo then True Blue Bingo is for you. True Blue Bingo is a trustworthy and reliable website offers an array of minimums and maximums, from one cent to two dollars for a ticket.
Powered by Microgaming, this bingo website has been online since 2011 and offers the American 75-ball setup and the Aussie's favourite 90-ball format, as well as other casino games in case you want a break from bingo – but once you try it out you probably won't.
True Blue Site Features
You don't need to download or install any software to enter a bingo room. Each is equipped with a unique design which can be customised to suit your personal preferences. Every room has unique hours and a different style of play. For instance, Friendship is a 24/7 room that's always available to play, while Sunshine is a special room open just a few hours a day that offers free games for players who have newly deposited to the site. Other rooms include Speed Bingo (which offers faster paced games) and Snickers, which often features unique jackpot games to spice up the action.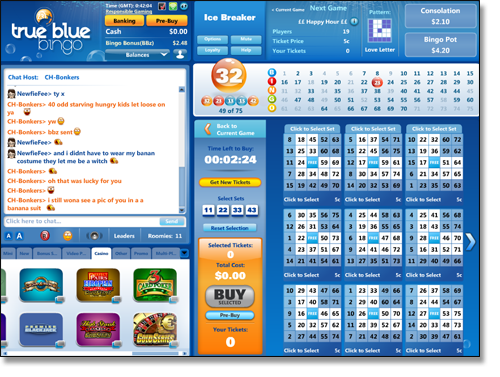 There is a live chat, to check out promotions, talk to other players, or take part in chat games such as Mirror Mirror and Mystic Meg. Most importantly the bingo caller creates an ambiance as though you are in a real life bingo hall.
Wondering what tickets are? Well in 90-Ball Bingo each ticket has three rows and nine columns. Each row has five numbered squares and there are always four free squares per row. Sets of six tickets are called strips, and in a strip, every possible number from one to 90 is distributed once across these six tickets. This means that for every ball called one number can be marked on any of the six tickets.
For 75-Ball Bingo, each ticket has a five by five grid with random numbers from one to 75. The middle square is always free and already marked off for you. You increase your chance of winning the more tickets you buy, but don't worry there are plenty of games where you have a chance to win with a small number of tickets, including the Progressive Jackpot where you can win thousands with a low cost bingo ticket thanks to it being funded by all the players in the room.
Aussie Dollar Bingo
This bingo site is powered by Parlay Software and has only been online since 2013, but that doesn't mean it holds back on the treats. All you have to do is sign up and you get a $20 no deposit trial gift. Including an array of games, bonuses and chat hosts from down under, this site allows bingo banter with an Aussie twist.
Once you realise how exclusive Aussie Dollar Bingo is, you can make a deposit and you get a 1000% welcome bonus package which includes a 600% first deposit bonus and a 400% second deposit bonus. You will also receive a 300% deposit bonus for life.
Register for free and you can practice with your $20 no risk trial to see what games you like and feel more confident with. When you're ready, deposit the minimum $20 and you can buy cards for both the 90-ball bingo and the 75-ball bingo games. If you refer a friend and they sign up and deposit you earn $50 real dollars.
Aussie Dollar Bingo Site Features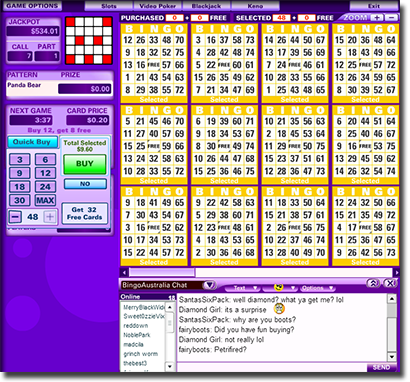 Cards range from five to 35 cents per card, but generally if you buy a certain number of cards you can get a few more for free if you're lucky. You can either select 'quick buy' or choose your own tickets. You can even 'pre buy' which allows you to take a look at upcoming games and purchase tickets for as many different rooms as you would like and allows you to be a part of The pre-buy the JackPots at any hour, even if you aren't there –something traditional bingo can't offer.
There is up to $20,000 ready to be pocketed in the JackPots every night while the High Stakes Bingo means $1 cards can win you minimum $100 from Friday to Sunday. There is also free bingo for all night owls from midnight in the Candy Room.
Lucky Pants Bingo
Think you've got your lucky pants on? If so, head over to this bingo site, powered by Daub Games, which has, like the other sites, 90-ball and 75-ball bingo games, slots and more. But what this site does offer, that the others don't is the ability to play the games anywhere anytime on your smartphone.
Lucky Pants Bingo Site Features
Cards cost from $0.01 to $1 per card with players being able to play a minimum of one card and a maximum of 96 cards. But new players get 500 free bingo cards and 20 free spins with no deposit or credit card details required. The bonus is credited at $5 bingo funds.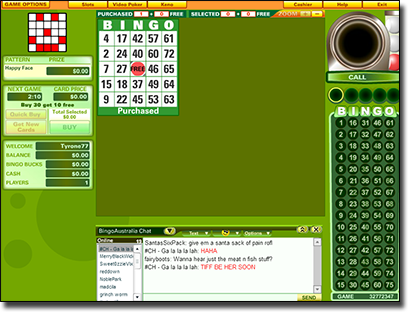 But you don't have to fork out money to play all the time. If you have already been playing and have made a deposit at Lucky Pants Bingo you will be able to play the free 90 ball bingo games that are offered every half an hour on the site.
There are also several guaranteed jackpots as well as progressive and sliding jackpots, basically everything that a bingo player needs to have fun. There are jackpots between $100 and $500 offered on the website daily with the monthly guaranteed jackpots game being worth $5,000. There are also weekend specials being offered that offer players extra prizes for being able to meet challenges while playing in bingo and slot games.
Is It Safe To Play Online Bingo?
Yes, it is. all transactions to and from these Bingo sites are safeguarded with 128-bit Secure Socket Layer digital encryption technology which protects your information and money from any third parties. Both sites are also tested and approved by the Alderney Gambling Control Commission – an international industry watchdog – meeting stringent guidelines in order to gain their approval.