Deprecated
: Implicit conversion from float 2.2333333333333334 to int loses precision in
/home/onlinebingositesguide/public_html/wp-content/plugins/wp-word-count-pro/includes/class-wpwc-functions.php
on line
414
Estimated Reading Time: 2 minutes
Wondering about the electronic bingo machines sometimes present in casinos, clubs or pubs? Offered around Europe and parts of North America and Australia, these games are often referred to as mechanised cash bingo.
Best bingo sites for Australians

games
2 bingo rooms + 15 table games and niche titles
What is Mechanised Cash Bingo?
Mechanised cash bingo is a variation of the traditional bingo game. The game is played on an electronic board with a smaller size – a 4×4 square, split into four columns compared to the usual 5×5 – and this means only 80 numbers can be played. Each column is coloured to make it easier for numbers to be called.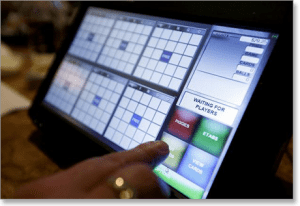 The caller is an electronic credit system that uses coin slots, as coins are used as credits in place of money. These bingo machines are often linked to provide multiplayer games with others as with standard bingo, but local games are also offered for separate play sessions.
Mechanised bingo incorporates a "participation fee" with every credit inserted into the coin slot. The casino operator who own the mechanised bingo machine will use a computer to set their fee, usually between 40% and 60%, and the remainder of the player's credit will be used for them and put into the total winning prize pool.
History of Electronic Bingo
Mechanised real money bingo started off as a way for certain organisations to raise funds. Many churches and institutions used it to help their causes, ranging from standard fundrasiers to other charity events.
Eventually, the games were recognised by casinos, clubs and pubs and mass produced as another game available for bingo patrons. Depending on the country, the exact laws governing these mechanised games of housie vary.
How To Play Mechanical Bingo
Most mechanised bingo games allow people to play one or two boards at a time. A coin has to be inserted to play. Numbers are then called as usual, and players use plastic chips to track what has been called.
Calls are faster, usually made in 2-4 second intervals rather than the standard 10-15 seconds. For players with winning combinations, a 'bingo' or 'collect' button is pressed to stop the game.
Because coins are used as credits, in place of money, cash prizes are funded directly to the temporary account players create when playing – usually with a provided card. To physically collect, players visit the cashier of the establishment to have their winning funds paid out.
Is it Worth Playing?
Mechanised bingo is still popular with many bingo players because games play faster than traditional bingo. With only 80 numbers, two board games available and a faster collection process, this form of electronic bingo suits those who enjoy quicker games.
However, mechanised bingo should be avoided in preference of standard bingo if you're looking for the best odds and returns. The operator profits from the fact that the games have such a high credit participation fee, and that the games themselves play out very fast – which means an operator can make massive profit within moments.
This also means players can lose much faster, and with already reduced chances of winning because of the smaller size of the card and the 2 second interval of calls coupled with the fee, the prize money and the possibility of actually winning a decent amount of cash suddenly doesn't look as big.