Deprecated
: Implicit conversion from float 3.5833333333333335 to int loses precision in
/home/onlinebingositesguide/public_html/wp-content/plugins/wp-word-count-pro/includes/class-wpwc-functions.php
on line
414
Estimated Reading Time: 4 minutes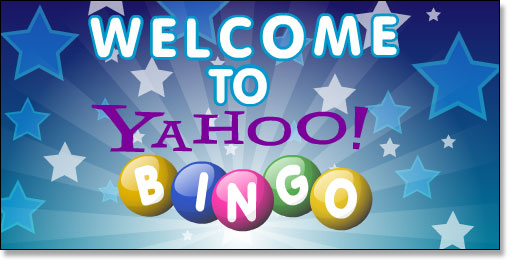 Yahoo has a whole host of games you can play for free, including a number of fun bingo games. Yahoo cut down its selection of free games in 2014, but as long as you have a Yahoo email account you can still access an excellent range of titles. Most of the games on Yahoo don't require you to download and save any additional software; they are mainly Flash based games you can play instantly. You'll need a Yahoo email account to access the games. We've reviewed the most popular free bingo Yahoo games, so here is what you should know before you begin playing.
Best bingo sites for Australians

games
2 bingo rooms + 15 table games and niche titles
Super Bingo HD
In Super Bingo, you can play against other live players from all over the world and you can chat with them via the group chat feature while the main bingo game is underway. With bright graphics, 3D rendered images and lively animations, the game runs smoothly and it uses a pleasant musical backing track.
Super Bingo HD is a little different to the majority of bingo games found at dedicated bingo sites; typically, online games are auto-daubed so when one of your numbers is called out it's automatically crossed out. In Super Bingo, however, you have to daub your winning numbers yourself and then hit the 'Bingo!' button once you've completed a winning playing card. If you're looking for a bingo game you can run in the background while you're doing other things, Super Bingo mightn't be the bingo variant for you. Super Bingo is one of the more exciting games we've played because it keeps you on your toes. You can play up to four playing cards at any one time.
When you start playing Super Bingo HD, you're given a set amount of playing coins and playing credits with which you can purchase playing cards.
Bingo USA
Bingo USA has some nice side games, in addition to the main bingo game, which makes it a very rewarding bingo variant.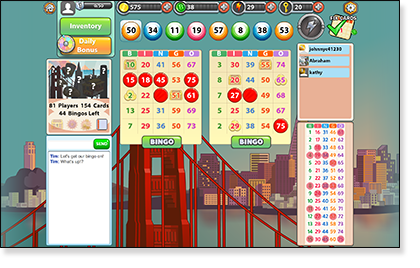 You play Bingo USA with a scenic American backdrop; this backdrop can be anything from a natural Yosemite landscape to a view of the Golden Gate Bridge. You've got a classic Hollywood style voice-over calling out the numbers. You can purchase 1 – 4 playing cards per round, but you have to daub the cards yourself so don't bite off more than you can chew. Once you have either marked off the numbers in a winning formation, or alternatively have marked off all of your card's numbers, then you can hit the 'Bingo!' button to announce your win.
There is also a Daily Spin Wheel that works like a wheel of fortune type round. You get a free spin everyday and can win a number of prizes. For instance, you can win free coins, bonus playing cards or you could win a treasure chest with a bonus prize inside it that you can save and open whenever you wish. There is also a chat feature where you can talk to other people currently playing Bingo USA.
Bingo World
Bingo World let's you play bingo all over the world; virtually of course. You can choose to play free bingo at one of the following locations; Tokyo, Mexico City, Rome, Las Vegas, Cairo, Rio, Paris, New York City, Dubai or London. You can play 1 – 4 playing cards per bingo game, but again in Bingo World you have to daub you're winning numbers yourself, so you have to be on the ball to play well.
There's a Daily Spinning Wheel, and you get one free spin per day. You get a free prize of some kind everyday. If you like Bingo World on Facebook you can win bonus mystery prizes and extra free coins, too, so be sure to give them the Facebook thumbs up and make the most of your free bingo.
Yahoo Bingo Summary and Real Money Online Housie
There aren't as many free bingo games on the Yahoo platform as there used to be, but those that remain are still enjoyable, are of high quality and offer a great social aspect.
All Yahoo bingo games run smoothly and are Flash based, so they load quickly. Aside from having a Yahoo email account, there are no additional forms you need to fill in, in order to start playing. You can play Yahoo bingo games for free with the free coins/credits you are awarded upon sign up.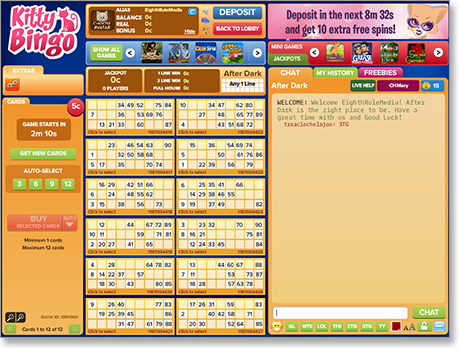 However, if you play Yahoo's bingo games a lot, you may have to eventually purchase playing credits via any of the secure banking options, which will allow you keep playing. This is ultimately why we suggest trying dedicated bingo websites if you're thinking abut buying more credits within Yahoo games – you can't win real money via Yahoo, but you can at the following sites:
True Blue Bingo
Bingo Australia
AussieDollarBingo
Lucky Pants Bingo
Kitty Bingo
These online platforms provide a host of graphically advanced bingo variations (such as 90 and 75 ball games), progressive jackpot games, tournaments and competitions with other live players, and a host of other promos and bonuses, all for real Australian currency – and new players can trial the games for free first with a no-deposit cash bonus. These community-based and social housie games are interactive, legal to play and provide hours of entertainment.