Deprecated
: Implicit conversion from float 4.1 to int loses precision in
/home/onlinebingositesguide/public_html/wp-content/plugins/wp-word-count-pro/includes/class-wpwc-functions.php
on line
414
Estimated Reading Time: 4 minutes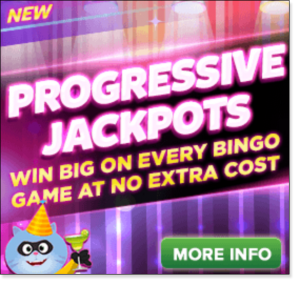 Bingo is one of the cheapest ways to gamble online, but it also has some of the largest prize pools to be won. This makes bingo one of the most rewarding games to play, both in terms of enjoyment and in terms of the real money prizes available.
Our endorsed dedicated online bingo sites run bingo games with a range of prizes, such as progressive winnable jackpot bingo games and daily, monthly and weekly games with chat bonus cash prizes. We've assessed the major, reputable online bingo rooms and evaluated their daily bingo prizes and giveaways.
Best jackpot bingo sites for Australians

games
2 bingo rooms + 15 table games and niche titles
Aussie Dollar Bingo
Aussie Dollar Bingo runs consistent daily bingo games with sizeable jackpots, including:

– A $750 Coverall game, run each night, guaranteed to giveaway a minimum of $750 worth of real cash prizes. The game commences at 10.00pm AEST and it is run in the Main Purple Room. The minimum prize for any one game run as a part of the nightly $750 coverall games is $100.
– Aussie Dollar Bingo also has Guaranteed Winnable Progressive Jackpot rooms. Each day, the minimum jackpot will reset, and a small portion of the purchasing price of every ticket bought will be added to the jackpot. The starting prices of these jackpots are considerably enticing, especially for minimal fees to play. The Guaranteed Winnable Progressive Jackpots run at Aussie Dollar Bingo are as follows:
In the Mega Room, the prize pool starts at $2,000 and grows. This winnable jackpot is open to be won all day long in the Mega Room and playing cards cost just $0.10 each.
Games with a guaranteed winnable progressive jackpot worth a minimum payout of $3,000 are run from 4.00pm – 7.00pm every day. Playing cards cost $0.50 each.
The guaranteed progressive winnable jackpot that starts at $5,000 commences at 7.00pm and ends at 10.00pm. Playing cards for this prize pool cost $1 each.
These jackpots are given away daily so make sure you're a part of the daily cash grab. Of course, if you miss one day, there is always tomorrow.
Bingo Australia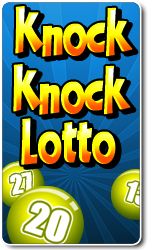 Bingo Australia is Aussie Dollar Bingo's sister site, so the great daily prizes you find there you'll also get here. Knock, Knock Lotto! is another rewarding promotion available at both these bingo rooms. As the name suggests, it's not bingo but a lottery game. It's free to enter Knock, Knock Lotto! and you can win bonus money prizes (additional bonus cash to play bingo to attempt to win withdrawalable money).
Make a deposit over $50 and you'll be granted automatic entry into the game. For every entry you gain, pick five numbers from 1 – 75; the more numbers you match with those drawn, the more bonus cash you win. If you get all five of your numbers right, you'll get $100. Results are determined by the first five numbers called in Thursday's 1PM 'Progress CA in 49 calls + 20c PJPs' game.
Lucky Pants Bingo
Lucky Pants Bingo always has multiple games running at any one time. It's Daily Jackpot Feast is just one bingo game that gives away huge amounts of money on a daily basis. The Daily Jackpot Feast is held in the Stripes Room everyday from 10.30am – 11.00pm. During this time, there are five guaranteed $50 wins and seven sliding jackpots worth $200 each. Playing cards in the Daily Jackpot Feast only cost five cents each.
In addition to the daily guaranteed win bingo rooms, Lucky Pants Bingo also hosts No Limits Bingo, which is a progressive jackpot bingo game. No Limits Bingo has three different jackpots; a daily, weekly and monthly jackpot. All of the No Limits Bingo games are 90 ball bingo games and games cost only five cents per playing card (held at 11.00pm every night).
Lucky Numbers is a progressive jackpot bingo variant where instead of purchasing bingo playing cards, simply choose four numbers you think will be drawn. If your numbers are daubed in the first 14 calls then you win the progressive jackpot. Lucky Numbers takes place in all 90 ball bingo rooms and commences at 8.00am, and finishes at 1.00am.
Kitty Bingo
Kitty Bingo has an excellent range of bingo variants running round the clock. Everyday from 8am through to midnight you can play 75 ball bingo with a progressive jackpot in the Splish Splash Room. If you prefer playing 90 ball bingo, there are daily progressive jackpot games running consistently throughout the day, with jackpots reaching heights above $10,000.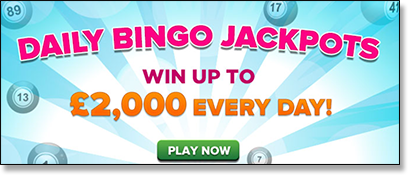 Kitty Bingo also has more specific Daily Bingo Jackpots where you can win over $2,000 in the prize pool each single day. Daily Bingo Jackpot games are held in:
The Kitty Cat Room
The Splish Splash Room
Penny Heaven
Furry 5
After Dark Rooms
Playing cards for these games can cost as little as one cent each and up to $1 each, depending on which room you're playing in. No Limits Bingo is also available at Kitty Bingo as it is at Lucky Pants Bingo.
Cat's Pyjamas is a daily guaranteed win bingo game, where $250 is awarded to a player every single day. Cat's Pyjamas games are held nightly at 7.00pm, 8.00pm, 9.00pm, 10.00pm and 11.00pm in the Kitty Cat room. This is a 90 ball bingo game and playing cards cost five cents each.
True Blue Bingo
An online bingo room powered by Microgaming, True Blue offers a host of top bingo games with sizeable jackpots and prizes, including progressive games with jackpots upwards of $10,000 as well as a 'Refer a Friend' promotion and other daily prizes for loyal players. Partake in Microgaming casino side games, too, such as the Mega Moolah slot game, blackjack, roulette, poker and keno, and win some serious cash prizes within those titles.
All the above community-based Internet bingo rooms are regulated sites, audited by independent gaming testing agencies for player fairness and security – these regulatory bodies set strict interactive gambling guidelines, rules and regulation which must be adhered to. It is legal for Australian residents to play bingo at any of the above reputable websites.