Deprecated
: Implicit conversion from float 2.7 to int loses precision in
/home/onlinebingositesguide/public_html/wp-content/plugins/wp-word-count-pro/includes/class-wpwc-functions.php
on line
414
Estimated Reading Time: 3 minutes
The online housie world has kicked off 2015 with a bang, giving players plenty to get excited about for the New Year. While our favourite online bingo venues never fall short on offering an abundance of awesome promotions, the ones floating around at the moment are among the best we've seen. There seems to be a lot of action going on as online bingo continues to soar in popularity, so there's never been a better time to head to one of our recommended bingo sites and see what all the fuss is about.
Lucky Pants Bingo progressive jackpot promotions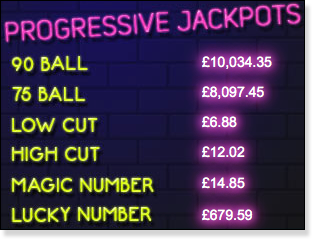 Lucky Pants Bingo has opened several new progressive jackpot bingo rooms to give players the chance to enter the new year on a high note. These bingo games have the potential to be very lucrative, but they're only open at certain times, so refer to the site's progressive jackpot section for the full schedule. Bingo rooms include 90-ball progressive, 70 -bll progressive, Full House, High Cut, Low Cut and Magic Numbers, and there's even the chance to win a $150 gift voucher in the Goodie Bag room. If you want to take a break from bingo, Lucky Pants progressive jackpot pokies are also sitting pretty with Greased Lightning currently holding around a $70,000 jackpot and T-Bird pokies at approximately $65,000, and growing by the minute.
Aussie Dollar Bingo bonuses
Aussie Dollar Bingo is kicking 2015 off with a new and improved $750 Nightly Coverall, which is triple the amount of the standard nightly coverall and has a minimum jackpot of $100. The $750 Coverall starts every night at 10PM and players can pre-buy tickets to secure their place in the game. Programmed to start at 50 calls, one more number is added every four nights until a winner is declared.
In February 2015, Aussie Dollar Bingo is also re-introducing Player Appreciation Day, where every Tuesday during summer, loyal players have the chance to win up to $500 in free cash. To be eligible for entry in the FreeRoll games, you'll have been required to deposit real money funds into your account at least once in the last seven days without any withdrawal requests. Games occur every Tuesday at 7PM in the Beach Room and eligible players receive entry to 20 free games, each paying winnings of $25.
Kitty Bingo promos
Never one to miss out on the excitement, Kitty Bingo is proudly introducing three new furry critters as the new Kitty Bingo mascots. The delightfully animated Supercat, Merlin and Granny Cat bring with them some exciting new bingo games and chances to win sweet cash prizes, so keep an eye out for these cute new members to the Kitty Bingo family.
New players registering for an account can also enjoy seven days of free bingo from 8AM to midnight every day in the Newbie room, on top of the huge welcome bonuses on offer. Currently Kitty Bingo's 90-ball progressive jackpot is sitting at over $10,000, so get in now for your chance at a piece of the action.
Bingo Australia competitions
Bingo Australia is making sure players get the best social experience out of their online bingo as possible, continuing its popular Team Bingo every Saturday and Sunday between 7PM and 9PM. Players have the choice of assembling their own team or being assigned to a team at random, with the intention of maintaining that social element found in real life bingo halls, where players chat and form friendships while enjoying the chance to win big.
Entrance costs $27.88 and there is more than $4,500 in cash and prizes up for grabs. Rooms open at 6PM, so players have an hour to get into the social spirit and get to know their team mates before play kicks off. A new 90-ball progressive room has also been opened, with a tasty minimum jackpot of $2,000, with cards for the low price of $0.20.
If these great online bingo promos are anything to judge the year ahead by, it looks like bingo lovers are in for a real treat!